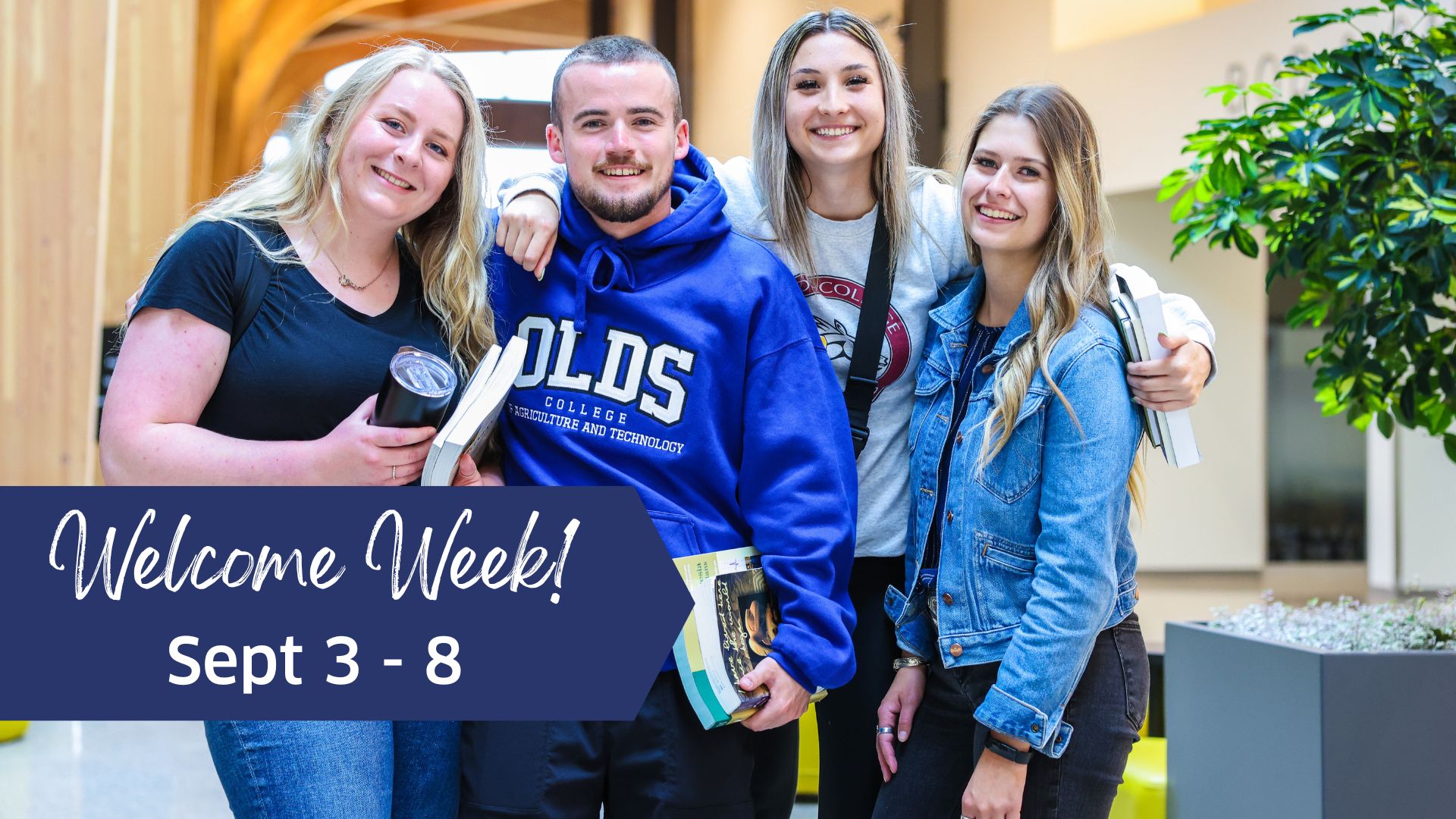 Welcome all new & returning students to #OldsCollege! 
Check out these events designed to help you get acquainted with your campus, the services available to you, and your classmates! Information about these activities will be sent to your student email through the weekly newsletter.
Note: Please park in Lot D/DD on your first day of classes until you have picked up your parking pass at the Office of the Registrar.
Welcome Week Activities
Scavenger Hunt - Be On The Hunt All Month!
Explore and learn more about campus to win prizes!
Find QR codes around campus to scan for your entry to win a Tim Horton's Express gift card!
Each QR code is unique and increases your chances of winning!
Move-In Day Welcome Party
4:30 - 8 pm | Centennial Village 
Taco in a bag, lawn games, and trivia with prizes!

Laundry & Cleaning 101
1- 5 pm | Centennial Village Lobby 
Get tips on how to pass room inspections & how the laundry facilities work.

Laundry 101: 1 pm & 3 pm

Cleaning 101: 2 pm & 4 pm

Organize your Life

3-6 pm | Alumni Centre
We've got free information and swag from:

Office of the Registrar

Health & Wellness

Residence Services

Teaching & Learning Centre of Innovation

OC Pride (GSA) & EDI Committees

Broncos Athletics

Community Learning Campus Fitness Centre

First Day BBQ

4-6 pm |  LRC West Courtyard
Burgers, Veggie Burgers, Chips, Pop, and Swag; provided by the SAOC!

College Tours

1, 3, & 5 pm.   45mins
Meet at the Office of Registrar

Welcome to Werklund

11:30 am - 1:30 pm | WATC
Welcome Event for students in the Werklund School of Ag Technology programs!

The Crossing Opens!

11 am - 2 am | LRC, across from the SAOC office.

Join us for our Big First Day event! Starting at 7 pm Ranchman's own 'DJ Dave' will be playing all requests

Take a spin on the Mechanical Bull 8 - 11 pm

This week's hours:

Mon - Wed | 10am-11pm

Thurs | 10am - 10pm

Fri | 9am - 3pm (with brunch menu!)

CLC Activities

6 - 8 pm | Outdoor Tennis Courts
Join us for Basketball and Floor Hockey, we'll bring the drinks & snacks!

Social Insurance Number Clinic

9 am-5 pm| ELC 949
Get assistance with setting up your social insurance numbers, International students will find this especially helpful!

School of Trades & Skills Welcome

11:30 - 1:00 | Lab D
Meet the admin team, enjoy a BBQ, and enter to win a prize!

School of Life Science & Business Welcome

12:00 - 1:00 | DMP 129
Come and meet the admin team and enter to win a prize!

Teaching & Learning Centre of Innovation (TLCI) Welcome

1:00 pm - while snacks last! | Learning Commons - Upper LRC
Free snacks & coffee! Learn about our services and how we can help support your success!

International Students Orientation

1 -7 pm | Alumni Centre
Learn about student life in Olds, access on- and off-campus services, tour Olds, and make connections & friendships!
4:30 pm: Returning International Students are invited to join us for a social!

International Student Vendor Fair

1 - 4:30 pm | Alumni Centre
Connect with representatives from local banks, Provincial Registry Office, Service Canada, cell phone providers, and more! Get your services set up and your questions answered