Smart Ag Ecosystem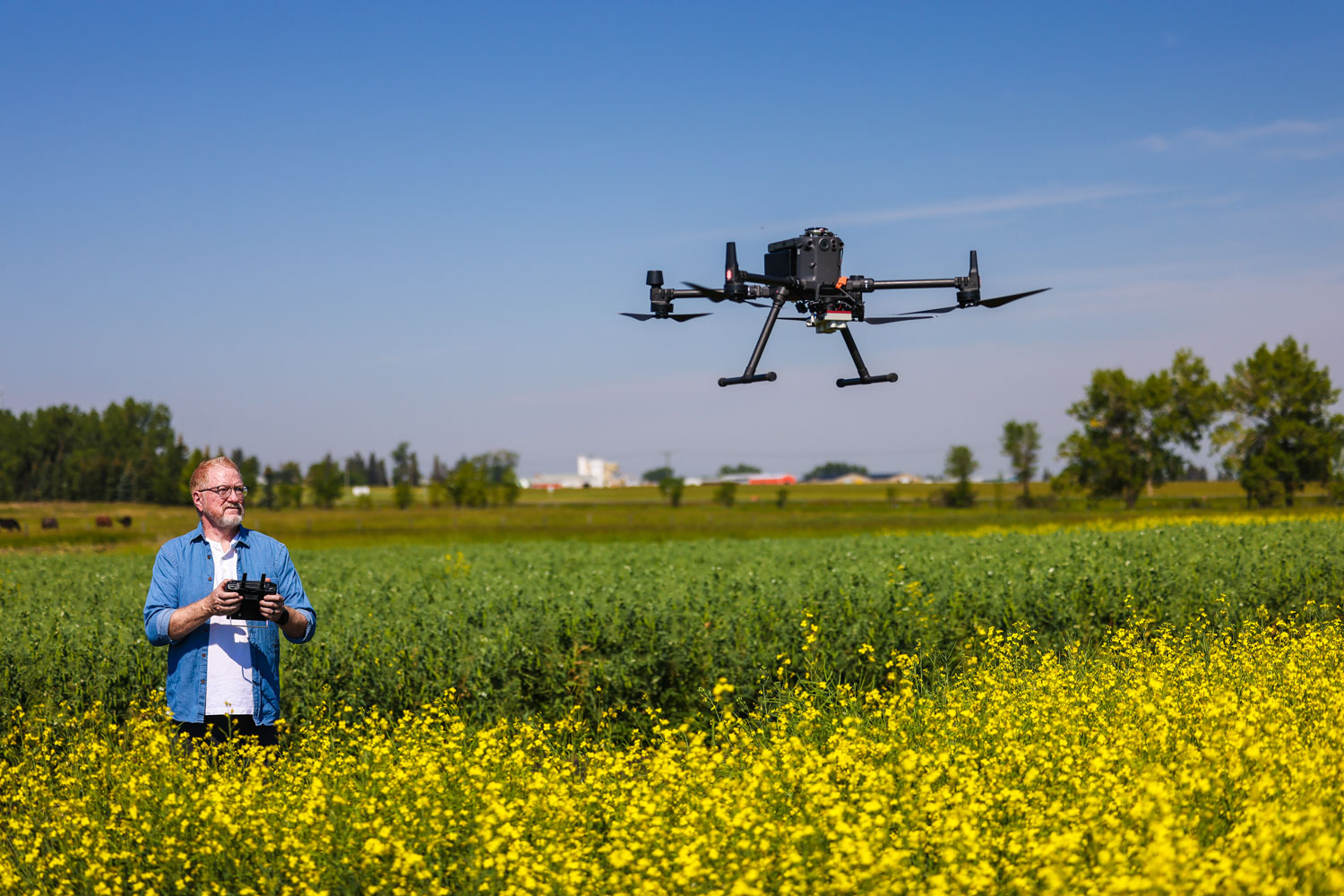 As technology continues to influence the way we live, work and farm, smart farms and technology development have a critical role to play in the global grand challenge of feeding a growing population with fewer resources while reducing the environmental impact. The Olds College Smart Ag Ecosystem is accelerating the progress and innovation needed to grow Canada's ag industry — and the Olds College Smart Farm is at the heart of it all.
There are seven pillars of the Smart Ag Ecosystem at Olds College of Agriculture & Technology that are fundamental to the success of the Smart Farm — a true ecosystem where producers, industry partners, small and medium-sized enterprises (SMEs), students, and faculty can collaborate and work towards advancing agriculture.
Smart Farm and Smart Farm Operations

At the heart of the Smart Ag Ecosystem is the Smart Farm and Smart Farm operations. This leading-edge learning environment has grown to include 3,600 acres of farmland, infrastructure and staff who are experienced in ag tech research and development.

Applied Research

Practical and industry-driven applied research is key to accelerating the development and adoption of technologies and practices. The research experts on the Smart Farm work with innovators and SMEs to move their ideas and products through the innovation chain — and into the hands of farmers and producers.

Strategic Partnerships

Strategic partnerships and investors allow Olds College to build and operate the Smart Farm with the flexibility needed to support innovation and development.

Physical Infrastructure

The physical infrastructure at Olds College — including a national meat training centre, brewery, greenhouses, wetlands and more — provides endless opportunities for students and everyone in the ag sector to learn and grow.

Digital Ag Infrastructure

The digital ag infrastructure is a growing piece of the ecosystem and critical component that allows Olds College to launch and execute Smart Ag research. The world of agriculture is becoming reliant on the 'internet of things', and this infrastructure is essential for the ag tech evolution.

Academic Programming

Academic programming in a post-secondary institution that provides training, skills and work-integrated learning for the next generation of users and developers of ag technology is at the core of Olds College.