2023 Hall of Fame & Merit Award Winners Inducted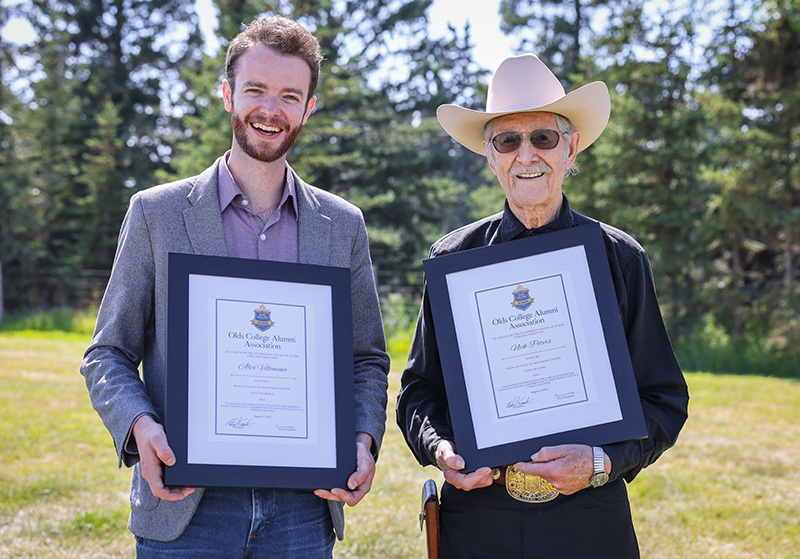 On August 2, 2023 at AgSmart an Induction Ceremony was held to celebrate the 2023 Hall of Fame and Hall of Merit award winners.
Every year the Olds College Alumni Association accepts nominations for the Hall of Merit and Hall of Fame. These awards are presented to alumni who have distinguished themselves by making significant contributions to Olds College, the community, society, and/or their chosen career or industry. The Hall of Merit award goes to alumni under the age of 40, and Hall of Fame over the age of 40. 
The ceremony was held in the hosting tent at AgSmart with over 50 friends, family, and fellow alumni of the award winners. The awards were presented by Michael Frankiw, Alumni Association President and the event was emceed by Debbie Thompson, Vice President of Academics. In addition, Ben Cecil, President of Olds College, welcomed everyone in attendance and congratulated the award winners.
Nick Peters - 2023 Hall of Fame 
In the 1980s, Nick generously shared his expertise and love for saddle making, leading a popular course that quickly became one of the most sought-after programs at Olds College. With a class size of only 15 and a waiting list of over 100 students eager to learn from him, it is evident that Nick's dedication to nurturing the talents of the younger generation has left an enduring impact. We celebrate his profound engagement with Olds College students, his immeasurable impact on the community of Olds, and his invaluable contributions to the leatherwork industry. 
Alex Villeneuve - 2023 Hall of Merit
During his time as a student at Olds College, Alex's passion for sustainability and innovation led him to establish Ceres Solutions, a company that has redefined the agricultural and brewmaster industries. His journey commenced with a simple yet ingenious idea – to grow specialty mushrooms on spent brewers' grains, an abundant by-product discarded by craft breweries. As his venture flourished, Alex continued to maintain a strong connection with the college, seeking collaborative opportunities to further elevate his ideas. Beyond just being a successful alumnus, Alex has actively given back to Olds College, sharing his journey and expertise with current students.  Olds College is immensely proud to have played a part in Alex's journey, and his induction into the Hall of Merit serves as a testament to the institution's mission of transforming agriculture for a better world.
Congratulations to Nick and Alex on their recent induction into the Olds College Alumni Association's Hall of Fame and Hall of Merit.