Smart Ag Innovation Centre (SAIC)
To properly analyze data, plan for future growing seasons, and collaborate with students, industry partners, and producers, the College required a dedicated space in which stakeholders can meet and data can be processed.
The centre is a nondescript farmhouse from the outside, but inside it is a technology centre, which is what so many farmhouses are going to look like in the future. The Innovation Centre is where we find, display, and implement the data that we collect. It gives us the chance to collaborate with industry partners and it allows us to show our students the results of our data collection and teach them about how we use that data to solve real problems on the farm.
The Innovation Centre consists of a number of elements, all developed to contribute to academic excellence and student success, bolster our applied research, decrease the environmental footprint of our farm, and be an industry leader in smart agriculture.
UFA Innovation Lab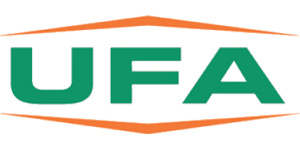 Fitted with a 85" touch screen computer interface, a glass whiteboard with an e-beam interface that can capture your work into a document, whiteboard walls and table tops, and a 4K 55" touchscreen Google Jamboard, the UFA Ag Innovation Lab is an interactive creative workspace that allows for teams, including Olds College staff, students, and industry partners, to use powerful collaboration tools in meetings and breakout sessions.
FCC AgExpert Data Lab

The AgExpert Data Lab is a homey, yet technologically advanced workspace available for students, instructors, and the Smart Farm Integration Team to meet, collaborate, and learn. The space features a waist height work station with table-top touch screen computer, a wall of five 50" computer display monitors, and a fireplace to help everyone feel more comfortable.
Investment Lab
The Investment Lab is another project room for student groups, faculty, staff, and industry use. The Investment Lab includes Google Meet hardware that can access apps that investors can use to connect with startups that are coming out of the Smart Farm Ecosystem. Through the Investment Lab, teams can meet remotely, hosting virtual meetings with potential investors or partners.
Lower Level
The lower level of the centre includes a number of offices for Smart Farm employees, as well as two touchdown spaces for industry partners and producers, along with the Smart Farm Integration Team.